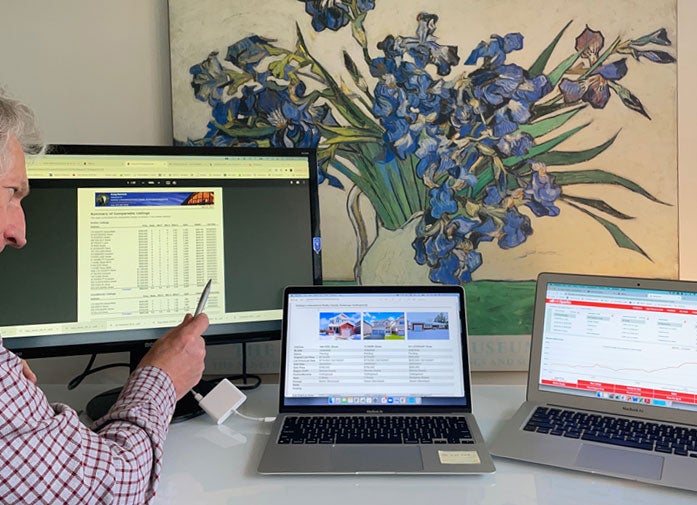 Buying a house or seasonal property these days is extremely challenging anywhere in Southern Georgian Bay.  Over the past month, I've worked with clients to find and successfully purchase properties, and continue to work in an environment where multiple offer scenarios are typical.

Here is some information and strategies for buyers when purchasing a property in the current hyper-competitive real-estate market.
First off, understand that sellers make the rules and have the right to change their mind at any time until an offer is accepted in writing.  The preferred method for a seller in a multiple offer environment in Ontario is what's referred to as a "blind bidding process".  As the buyer, you will know the number of offers. The seller is obligated not to disclose any details of any offer with other buyers. However, they dictate the offer process.  Sellers can decline all offers (no matter the price), ask some or everyone to improve their offers, sign one and hold back on the other offers, etc. They can decline to accept pre-emptive offers (bully offers), or they can accept them.  Throughout the process, at any time, they can change their mind and notify the buyer's agents simply by sending out an email.
When entering a seller's market, the first tip is to prepare yourself mentally.  It takes several weeks (or months) of seeing properties and getting a feel for the market before you'll be confident enough to submit an offer that might be accepted.  There's no substitute for the experience gained by working closely with your Realtor who will provide you with ongoing market intelligence - list price to sold price for every property you've seen - or at minimum for those you liked. 
Must Haves vs Nice to Haves
Make a list of priorities and be prepared that you may not get exactly what you want.  Where are you willing to compromise versus what is critical to you?  Share this list with your Realtor since it will help them select homes and cottages for you to see.  Things to consider for properties in South Georgian Bay are: location, year built, size and type of dwelling, budget, view, number of bedrooms and bathrooms, potential for an office, municipal services, internet connectivity and an exercise room. 
If you're looking for a waterfront property, consider some of these creative ideas
.  Having a list of requirements can save you a lot of wasted energy.  For example, there's no point in seeing a property that does not have internet speeds that accommodate your needs unless you're comfortable with off-grid solutions such as
SpaceX's new Starlink service
. 
Remember, in a seller's market, the list price is often lower than its market value and does not necessarily correlate with the value your lender will appraise it at.  Lenders are more likely to require it to be appraised before they provide a mortgage.  
How Much Should You Offer?
In multiple offer situations, Realtors are always asked repeatedly "what will it sell for" or "what price should we go in at"? These are high-risk questions for a Realtor to answer, for obvious reasons.  I recently attended a seminar and the teacher, an accomplished industry veteran, advised under no circumstances should a Realtor ever provide a price.  You might think this makes no sense.  After all, isn't that why you are paying for a Realtor?!
The way I approach this question is to provide a broad range based on a comparative market analysis.  The second part of our strategy is to have an offer prepared and discuss the price at the very last minute based on the number of offers registered.  For example, if we provide a range of $1.0 to $1.1 million and then see that ten offers have been registered, it's likely this property will sell for over $1.1million, so I will then have a conversation with the buyer to discuss the option and logic for  increasing their offer.
Nothing Beats the Human Touch
Since COVID-19, presenting offers in person has been put on the back burner.  When restrictions are lifted, make sure your agent is advocating for you in person.  Human contact and explaining why the buyers love the house can often be the reason the seller accepts your offer.  By advocating in person, your agent will have a better chance of being given a second opportunity if your offer falls short on the first round.  Letters can also prove effective, but only if they are genuine.  This worked for my Client who just recently purchased a home they absolutely loved - their letter struck all the right chords with the seller who accepted their offer.
Give a Very Short Irrevocable Period
An offer expires at a certain time; this is referred to as "the irrevocable".  It means the offer is no longer good after the specified time.  One of the few pressure points the buyer can use is to give the seller a very short irrevocable period.  This takes away the seller's opportunity to negotiate a better offer knowing they always have yours to fall back on. 
Work with a Real Estate Agent Who is on Top of Your Needs
Make sure you select an agent that is on top of the market, well organized, great at follow-up and has the presence to make a difference when negotiating on your behalf.  Don't hesitate to ask for referrals and how they can make a difference.
Craig Rennick is a Sales Representative of Sotheby's International Realty Canada, Brokerage, and a member of The Toyne Team. He lives in Collingwood and recently renovated their family cottage on Good Cheer Island in the Sans Souci area of Georgian Bay.tent goes here